EVERYTHING CHANGED IN AN INSTANT.
I thought I knew what was important, but one phone call sent my life into a tailspin.
Alone and afraid, I cling to the one man I shouldn't.
I was warned about him and told to stay away. "He's dangerous," they said.
But the man who could hurt me the most, gave me the greatest comfort.
"He's not who they think," I told myself.
But just like an illusion, things are never what they seem.

After reading a book that gives you such deep emotional feels, a reviewer needs to take a moment, let the feels settle before they continue with said review. I did that because Enshrine ripped me open, tore me up, and spit me out.

Callie takes life for granted. She has her shoes, her purses, her job, her friends. She doesn't need anything else. One phone call. That's all it takes for the her life to change. For her to have to face the reality of the things she once thought were important no longer matter.

Denial
Anger
Bargaining
Depression
Acceptance

Fight

Bruno has watched her from afar, always waiting for the right moment to approach her, to claim her. The moment he seeks is ripped away from him and now, time is all he has. Time to make her see him, make her see who she really is, what she has inside of her, to help her find her fight. Leaving her is not an option, regardless of what she thinks of him. Regardless of the rumors.

Enshrine is not your normal read. In 99% of the books we read, we have a build up to a climax, then the resolution. The entire story line is the climax. Chapter after chapter of anxiety. Not knowing whats around the next page. Chelle dredged up some emotions in me I didn't want to face. Things I, myself had been running from for a while now.

Read it. To the top of your TBR pile. <3 nbsp="" p="">3>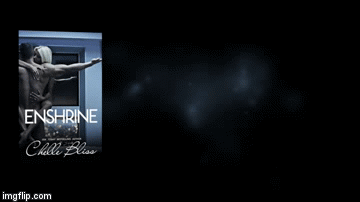 Available at the following retailers
ENSHRINE GIVEAWAY - OPEN INTERNATIONALLY
USA Today Bestselling author, Chelle Bliss, currently lives in a small town near the Gulf of Mexico in Florida. She's a full-time writer, time-waster extraordinaire, social media addict, and coffee fiend. She's written over ten books and has two series available. She loves spending her free time with her boyfriend, 2 cats, and her hamster.
Before becoming a writer, Chelle taught high school history for over ten years. She holds a master's degree in Instructional Technology and a bachelor's in history. Although history is her first love, writing has become her dream job and she can't imagine doing anything else.
ALSO BY CHELLE BLISS